Which phone should you choose? Don't be in any doubt with our full comparison.
Years ago, a cheap or cheap Android phone was a real lottery, especially if it came from China. Today the "Made in China" is no longer scary and Much of this is the fault of companies like Xiaomi.
Xiaomi is known for launching numerous mobile phones, some with its own signature, others under the name Redmi. Though it was pulled up its sleeve a few years ago the POCO brand that wanted to be the main competitor of OnePlus.
Nowadays, POCO stands for quality, spectacular phones and, above all, a good price. Some of its best exponents are the POCO X3 and the POCO M3. two of the best value for money smartphones on the market. Which one is worth the most? We will help you resolve all your doubts.
Design and display: The 120 Hz of the POCO X3 make the difference
None of the devices is too small. Android companies have thrown compact phones completely overboard and are now fighting over who makes the largest smartphones with the longest screens.
The polycarbonate design of the POCO M3 is something we've never seen before. In the back there is a large glass window in which the cameras of the device are located may not be to the taste of all consumers. The front (6.53-inch IPS screen by the way) has a small notch in the shape of a water droplet.
On the other hand, the POCO X3 is outwardly and to our taste a much more conventional smartphone. much more elegant and better used. In the rear part, the rounded camera module with a protruding middle part is particularly noticeable, although the front part (6.67-inch IPS screen and Full HD + resolution) is used much better thanks to a than that of the M3 small hole in which the front camera is hidden.
The main difference between the two devices is that the POCO X3 has a display with a refresh rate of 120 Hz, something surprising on a relatively inexpensive phone.
Cameras: None of the smartphones stand out excessively
Mobile phones have become the perfect replacement for compact cameras Therefore, the photographic field is an important point to consider when buying a new smartphone.
The POCO X3 has the following camera setup:
A Sony IMX682 main sensor with 64 megapixels and an aperture of f / 1.89.
An ultra-wide angle of 13 megapixels and an aperture of 1: 2.2.
A 2 megapixel macro and an aperture of f / 2.4.
A 2 megapixel sensor for portrait mode with an aperture of f / 2.4.
In the hole in its front we find a 20 megapixel sensor and 1: 2.2.
According to cons, the SMALL M3::
A main sensor with 48 MP and an aperture of 1: 1.79.
An ultra wide angle of 8 MP
A 2 Mp macro
An 8 MP front camera
As you can see, the POCO X3 has a much better photographic range on paper and we are already expecting this in the field. however Neither device is a benchmark for photography And while the X3 is a few notches higher than the M3, the camera isn't why you'd want to buy one of these devices.
Battery: The POCO M3 wins with a "trick"
The fact that the POCO X3 has a screen with a refresh rate of 120 Hz might lead us to believe that its autonomy wouldn't be the best on the market, but it isn't. The 5,160 mAh is more than enough to last all day with the 120 Hz activated. Of course, if we go into the 60Hz configuration we have more autonomy, but honestly it's not worth it.
In addition we have a 33 W fast chargeThis allows you to switch from 0% to 50% in less than 30 minutes. That means, to fully charge the terminal, you only have to wait 1 hour and 20 minutes.
According to cons The POCO M3 has a 6,000 mAh battery This helps prevent us from having a refresh rate of 120 Hz and allows us a few days of autonomy without the need for chargers and plugs. It also has a quick charge of 18W. If you're one of those people who charge your phone every night, you'd better bet on the POCO X3's 120Hz.
Processor and memory: The POCO X3 is unrivaled
It is not a joke if we say this The POCO X3 is possibly the best value for money terminal on the market And it doesn't matter how good the competition is, because this device has virtually no rival.
Qualcomm Snapdragon 732G processor with 6 GB of RAM. Obviously, it's not a high-end configuration, but it's a terminal that costs around 200 euros.
The POCO X3 It's perfect for enjoying heavy games like Genshin Impact as well as any other application we can download from the Play Store.
On the other hand, the POCO M3 has somewhat inferior but equally interesting hardware. Qualcomm Snapdragon 662 processor and 4 GB of RAM. A really remarkable and sufficient configuration, but the POCO X3 is so good that, as we said before, it doesn't matter what the rest of the terminals are doing. Today it is unrivaled in this price range.
Connectivity: Absolutely nothing is missing in this entrance area
Having a phone cheap shouldn't be an obstacle to getting the latest and most effective connectivity features This is demonstrated by both terminals.
NFC, fingerprint reader on the side, USB Type C and 3.5 headphone jack, which unfortunately can no longer be seen in many terminals. Neither has 5G connectivity But given that it's a technology that isn't strictly necessary yet, we don't care either.
The two terminals are therefore very similar in terms of "extras" So there isn't much more to add here.
POCO X3 or POCO M3: Which One Should You Buy?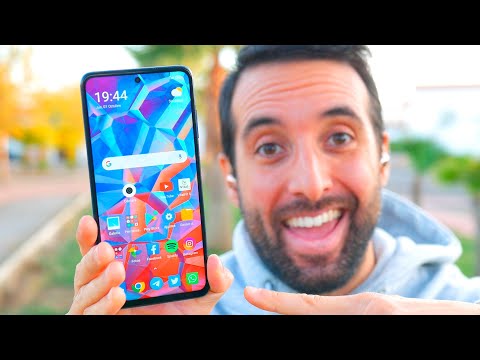 The POCO M3 is quite an interesting terminal as an entry-level phone, but the problem is that, as we said earlier, The POCO X3 is unrivaled. For just a few dollars more, we have a better screen, better performance and better camera. The cooling rate of 120 Hz makes the POCO X3 a unique terminal in its price range.
Without discussion. The POCO X3 is the best terminal we can buy for 200 euros, and if MIUI doesn't throw you back, the smartest buy.
And be careful, the POCO M3 is a great phone too. If you buy it, you won't regret it, but we think the X3 offers a lot more and isn't that much more expensive. Now select the one you have chosen. SMALL is always synonymous with success.