OnePlus Nord vs POCO F2 Pro, which medium / premium selection?
While we all like high-end phones with cutting edge processors, high quality cameras, and high quality materials, that's true too Most of these devices are not suitable for all pockets.
While we may think that the price of smartphones has peaked, nothing could be further from the truth. Virtually all of the top phones from different brands cost more than 1,000 eurosA number that obviously not everyone can afford.
Fortunately, there are many options on Android, and while paying $ 1,000 for a device is out of our reach, that doesn't mean we can't get any truly spectacular devices. Because the medium / high range is so fashionable on Android with phones that border on top performance at very competitive prices.
Two of the best representatives of this medium / high / premium range are the OnePlus Nord and the POCO F2 Pro. Which of the two is better? We compare them!
Design and display: The 60 Hz of the POCO F2 Pro is insufficient
Although neither of the two phones can be considered "compact", The OnePlus Nord is a phone with more closed dimensions and a little lower weight. The design of the OnePlus terminal could now be viewed as "boring". If we remove the company logo, the OnePlus Nord hardly differs from other midrange and even low-end terminals. Of course, the OnePlus Nord is very well built as it combines the plastic on the sides with the glass on the back.
However, the design of the POCO F2 Pro is a little more original It's still a copy of the Redmi K30 with a glass and aluminum body that is slightly curved at the back.
The OnePlus Nord has a 6.44-inch panel and a resolution of Full HD +. although its highlight is the refresh rate of 90 Hz. On the other hand, the POCO F2 Pro has an AMOLED screen with a diagonal of 6.67 inches, Full HD + resolution and with a refresh rate of 60 Hz, a low value not only today, but also for a terminal of more than 400 euros.
Despite all of this and although the design of the OnePlus Nord doesn't really attract attention, We believe the OnePlus Nord's 90 Hz display tends to tip the scales in its favor.
Cameras: no surprises, both options are more than enough
When it comes to photography, the OnePlus Nord relies on the numbers. No fewer than six sensors make up the photographic part of the phone: four behind and two in front. Configuration that reminds us of the OnePlus 8 and whose price is much higher than that of the OnePlus Nord.
We are talking about a 48-megapixel Sony IMX586 main camera, supported by an 8 megapixel ultra wide angle. After all, the now classic "macro" and depth sensors appear on the scene that absolutely no one has ever asked for.
On the front side The Nord is the first cell phone in OnePlus history with two front cameras, a 32-megapixel main camera – the highest resolution ever seen in the front sensor on a brand's cellphone – and an ultra-wide-angle 8-megapixel camera.
As for the POCO F2 Pro, This has a 64 MP main sensor, a 13 MP wide angle, a macro with autofocus and a fourth sensor for the 2 MP depth.
Both terminals at the photography level are very interesting as well prove you don't have to spend a lot of money on a smartphone to get great photos. Therefore we find a very even level between the two terminals here. So if we are looking for a good camera in a terminal, either option will be a success.
Battery: No wireless charging on both terminals
One of the most important things about a smartphone is its autonomy. It is necessary that this can be enough to withstand a heavy day of use, and fortunately both phones correspond.
The 4,115 mAh battery in the OnePlus Nord is quite good, if not outstanding. When fully charged (quick charge 30 W), The terminal can stay alive for a whole day without any problems, with a little battery for the next day. In terms of screen hours, the approximate time is a maximum of 5 or 6 hours of screen, numbers they place in the middle of the table within the segment of the middle area.
The POCO F2 Pro has a battery with a capacity of 4,700 mAhThis supports fast wired charging (USB Type C) with up to 30 W as well as the standards Quick Charge 4+ and USB Power Delivery.
As we can see, both terminals have similar autonomy and neither stands above the other. Yes, Neither of them have wireless charging, a feature that we miss very much.
Processor and memory: who do you love more, mom or dad?
We can say the OnePlus Nord and the POCO F2 Pro are mid-range terminals, but we'd be lying. Both terminals have excellent specifications and although they are not at the top of the market area, Yes, we could divide them into the premium middle class that is so fashionable today.
The OnePlus Nord has a Qualcomm Snapdragon 765G processor with 8/12 GB of RAM and all of this is accompanied by its OxygenOS customization layer, which despite the fact that it is a little further from pure Android every day, continues to deliver one of the best user experiences on the market. We're not missing out on any more performance for the OnePlus Nord and its performance is one of the distinct aspects that lead many users to choose it over its more direct competitors.
The POCO F2 Pro has a better processor as it includes a Snapdragon 865 and 6/8 GB of RAM. The POCO F2 Pro is pure brute force and offers almost unrivaled performance at the prices we move. Well MIUI, you either love it or you hate it. We won't deny that the Chinese level of customization is one of the best, but it has little of pure Android, so it won't be for all users.
Hence, the choice is between the OnePlus Nord or the POCO F2 Pro in terms of performance how to choose between a father or a mother and the fact is that both terminals are fantastic and their performance is more than enough for any task, even heavy video games.
The choice falls mainly on each person's personalization layer The decision has to be something you make personally.
Connectivity: No wireless charging or headphone jack on the OnePlus Nord
As we've seen, both devices have some really spectacular hardware that turns them into off-road phones. When these devices have that much power What is the difference to smartphones that cost more than 1,000 euros?
On the one hand, it should be noted that neither of the two terminals is wirelessly charged. It's a feature that isn't essential, but the truth is that it's one of the most notable shortcomings in either device. To greater abundance The OnePlus Nord also doesn't have a headphone jack We either use an adapter or we opt for one of the many wireless headphones that are out there.
Otherwise, both terminals are quite complete in terms of connectivity and extras, as they have an on-screen optical fingerprint reader, NFC and Bluetooth 5.1, among other things.
OnePlus Nord vs POCO F2 Pro, which one should you choose?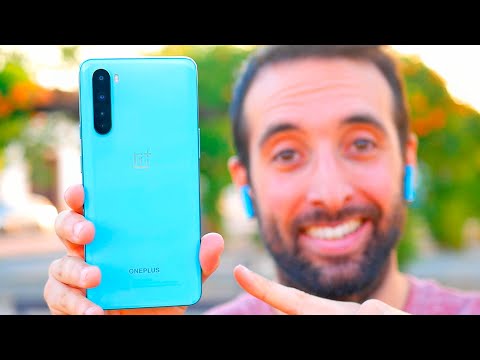 As we've seen, both the OnePlus Nord and POCO F2 Pro are two very similar terminals, both in terms of performance, camera and connectivity, and especially in terms of price. Both cost between 400 and 500 euros and offer a great user experience. So which one should you choose?
The decision must lie with us. Do we prefer an experience close to Pure Android or, on the other hand, do we prefer MIUI and its chaotic interface? The answer is complicated.
It's a very personal choice and the truth is that both devices are very even in virtually all areas. Especially We prefer the OxygenOS experience and its simplicity While that doesn't mean MIUI is a bad level of customization, on the contrary, it's the best we have on Android.
Anyway, both the OnePlus Nord and the POCO F2 Pro are two great options, and it doesn't matter which one we choose. because we will be proud of the purchase we made.