Xiaomi Redmi Note 9S versus Samsung Galaxy A51, which is the best terminal from 200 euros?
Years ago, acquiring a medium and low range Android phone was a risky sport. Not only because the specifications of the terminals left a lot to be desired, but also because the support the brands gave these devices was zero.
Fortunately, this is no longer the case and the fact is that while economical phones do not have the same quality or performance as the top of the range products from various brands. For most of the users, they are amazing phones.
Two great examples of inexpensive mid-range terminals are the Xiaomi Redmi Note 9S and the Samsung Galaxy A51. which we can find around 200 euros. Which of the two is better? Let's find out.
Design and display: good, pretty and cheap
We're starting with the design of both terminals and it seems that they are certainly not cheap phones. The Redmi Note 9S is not a very compact terminal and is made of glass. This shows that "cheap" smartphones can also be built well. The 6.67-inch IPS screen and FHD + resolution take up practically all of the front, and the only break is the small hole where the front camera is located.
As for the Samsung Galaxy A51, we have to say that its design is really beautiful although unfortunately it is made of plastic (and it also makes it lighter than the Redmi Note 9s). As for the screen, here we have a 6.5-inch Super AMOLED panel with FHD + resolution, which in turn takes up practically the entire front.
Although the Redmi Note 9S wins in terms of design thanks to its higher quality manufacturing (although there will be people who prefer the Samsung's plastic), we believe that the South Koreans' Super Amoled screens are better than the IPS. Obviously, it's a personal opinion, so it all depends on each individual's tastes. Yes, Both connections stay at the refresh rate of 60 Hz.
Cameras: Cheap phones can also take great photos
Starting with the Chinese device, We find a rear part with a total of 4 cameras. On the one hand, a 48-megapixel main sensor, an 8-megapixel wide-angle, a 5-megapixel macro sensor and a 2-megapixel sensor for the bokeh effect. On the other hand, the front camera reaches 16 megapixels.
For the Samsung Galaxy A51, the South Koreans opted for a main sensor signed by Samsung, in particular the S5KGM2 with 48 megapixels and a focal length of 2.0. It is accompanied by a 12 megapixel wide angle, a 5 megapixel depth sensor and a macro sensor, also with a resolution of 5 megapixels. The front camera has the Samsung S5KGD1 sensor with 32 megapixels.
It goes without saying that both connections have a wide-angle sensor, something that is not usually common on cheap phones. Both terminals take more than decent pictures when the light is abundant, and while the snapshots are not perfect, they are enough for most users' needs. The night segment, the weak point of most medium / low range terminals, is performing correctly without undue emphasis.
Battery: 5,000 mAh and two days of use as the main claim of the Redmi Note 9S
As we always say, one of the most important aspects of a cell phone is its autonomy. For the uses we have for smartphones today – social networks, messaging, video games … – we need large batteries. Fortunately, both terminals have it.
The Xiaomi Redmi Note 9S has a spectacular battery of 5020 mAh with 18 W fast charge. How could it be otherwise, the autonomy of this terminal is incredible and lasts for two days. This is what the company has been giving us for a long time and many of their other terminals also have a similar battery.
The Samsung Galaxy A51 doesn't have the same numbers as its rival, but we won't deny that the battery is one of its main attractions. 4,000 mAh with 15W fast charge It doesn't matter how we use the terminal as it lasts all day with no problem. Of course we are a bit more demanding and devote ourselves to playing, for example. We'll see how far the A51's autonomy falls short of the Note 9S
So if you are looking for a smartphone with a superlative battery, The Redmi Note 9S is the best option.
Performance and Experience: Exynos has nothing to do with Qualcomm
The usual at Samsung. While in the USA and South Korea their phones assemble Qualcomm Snapdragon processors, in the rest of the world and especially in Europe We have to be content with their own processors, the Exynosthat although they perform well, they have nothing to do with the competition.
The Xiaomi Redmi Note 9S Drive a Qualcomm Snapdragon 720G, a solvent processor designed for games. It comes with versions of 6GB and 8GB of RAM, a very interesting number for the mid-range. It will have two versions of the memory, 64GB and 128GB.
As for the Samsung Galaxy A51, We find an Exynos 9611, made by Samsung itself. It's the same chip that built in its predecessor, an octa core with a 10 nanometer structure. It is brought to life by four Cortex A73 cores with 2.3 GHz and another four Cortex A53 cores with up to 1.7 GHz. The GPU is the Mali-G72 MP3. It is accompanied by 4 GB of RAM.
Exynos processors are still a few steps below Snapdragon
All of this means that the Redmi has better performance than the Galaxy. Not just because the Snapdragon 720G is a better processor than the Exynos 9611, but also because MIUI feels so much better than One UI. And it's not a bad level of customization as it has managed to differentiate itself through recognizable design lines and is a huge improvement over what we noticed years ago, but because something is not working properly on the Samsung device.
Connectivity: There is almost nothing missing in this middle area
As is common with virtually all entry-level or mid-range Android phones, Both the Redmi Note 9S and the Samsung Galaxy A51 lack almost nothing.
NFC, headphone jack or quick charge. Of course, the Galaxy A51 has an on-screen fingerprint reader while the Xiaomi has it on the side. Obviously, none of them have wireless charging.
Xiaomi Redmi Note 9S vs Samsung Galaxy A51, which one to choose?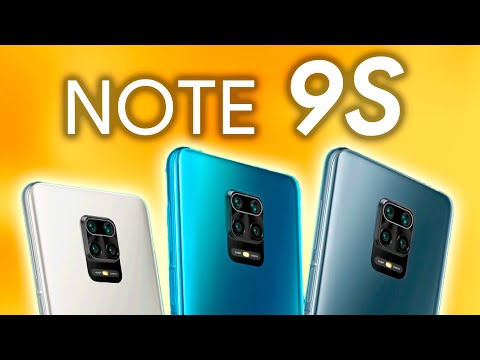 Who said fear of 200 euro cell phones? What played today a few years ago is undoubtedly a safe bet. The Android mid-range is fantastic and terminals like the Xiaomi Redmi Note 9S and Samsung Galaxy A51 confirm this. However, Which one is the two is better?
Though, to taste the colors, cWe read that the Xiaomi Redmi Note 9S is slightly superior to the Samsung Galaxy A51. It may be that the South Korean phone wins in terms of design (it depends on the tastes of each one), but the Xiaomi is made of glass, has better autonomy and better performance thanks to its Qualcomm Snapdragon processor.
Does this mean the Galaxy A51 is a bad buy? Absolutely. Samsung's middle class is at its best and there are a lot of flaws as there are terminals like this A51. So it doesn't matter which of the two terminals you choose in the end. Both are great mobile devices.